Domestic delivery
It is extremely important to Danang Sculpture Foundation that each stone statue and stone product arrives whole and undamaged. We take utmost care in shipping and packing each item.
Our stone statues are packed in firm cartoon with foam inside or foam boxes for air shipment (small sizes, under 10kgs) and in strong wooden crates (bigger sizes) for trucking to prevent damage during transportation.
For all our heavy large statues or stone products, we build a custom wooden crate to fit individual item dimensions so that it is packed safely for the journey. A pallet at the bottom of the crate helps it be easily handled by a forklift or crane during the shipping process. Wooden braces are used inside the crate to make sure that the item does not shift during its journey.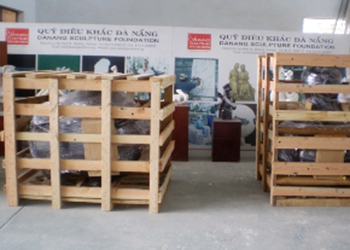 Strong wooden crates for big statues
Foam packing inside and wooden crates outside for small statues
Danang Sculpture Foundation cooperates with reputed transporters, including Vietnam Post, Viettel Post, Nhat Phong Van, Ecotrans, Hoang Long, etc. to deal with domestic air or truck delivery.
Please email info@danangsculpture.org, or call ++84-236-3968120, including the code number of the statue or stone product you are interested in purchasing and specific destination to receive a delivery quote.
For items of small sizes and under 10kgs, air delivery is the best in terms of both time and cost.
For items of bigger sizes and over 10kgs, trucking delivery is most recommended in term of cost.
Transit time: (except for weekends and holidays)
- Express delivery: 1 – 2 days from Danang to big cities and 2- 4 days from Danang to further regions in Vietnam
- Normal delivery: 5 – 10 days depending on regions in Vietnam